Uncovering the value behind winning partnerships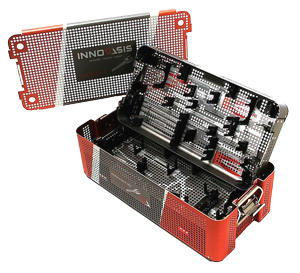 "The one thing we know about delivery systems manufacturing is that all our customers' needs and objectives are very different. However, our overall focus for every customer is the same – cost, creativity, ease of manufacturing and delivery – it all starts here," says Ian Trotman, engineering director. "Our teams approach to any given project is to look keenly at all possibilities to address the given objective, but to also improve upon or uncover new design or manufacturing opportunities whenever possible."
While our process begins like many others: identify objectives, develop the most efficient manufacturing strategy; the similarities end there. "We pride ourselves on never limiting strategies to what is 'specifically' requested. Instead, we approach an initiative as if we're manufacturing it for ourselves," says Michael Phillips, president, Delivery Systems Division. "Our team adds great value due to their experience and creativity. They know what works and what will not. Taking advantage of proprietary technologies allows us to offer strategies that are uniquely ours." For example, PPM received a request to quote the following job:
Customer Objective: Produce a 4-Piece Case Design with 4-color Silk Screening at a better price.


PPM's Solution: Convert the 4-piece design into a single sheet, formed and punched design. Use our single-step DCG™ (Digital Contact Graphics) validated process to mimic the look of the 4-color silk screening graphics.
What We Delivered:
One case was made the exact way supplied, using a 5-piece design and basic silk screen graphics. Then, we created the same exact case into a one-piece design and utilized DCG to match silk screen graphics. We asked them to stand a few feet back and try to choose their current design. Interestingly, they chose our version of the system, which would save them a lot in future case and tray costs.
Final Results: On a 555 piece order, for one tray, our customer realized a $28,000 a year cost savings. The lead time remained our standard 7-8 week turnaround.


Michael provided another example of a customer we have a long history with. After establishing favorable costs by updating the existing design, our customer decided to conduct in-house performance testing to determine the durability of our DCG™ process. The results exceeded our expectations. In short, after 50 autoclave cycles, very minor wear was noted on the case samples. After 100 autoclave cycles, virtually no additional wear was noted at all.
The best partnerships occur when all major stakeholders work together. While our engineering team thrives on overcoming challenges and adding value wherever possible, it's the trust and confidence we build along the way through our responsiveness and lean engineering principles that result in winning
partnerships and long-term relationships.