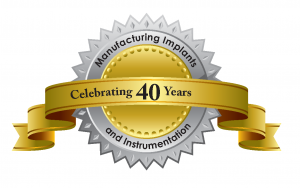 Solutions, Quality and Experience
Phillips Precision Medicraft is a leading manufacturer of advanced orthopedic implants, instrumentation, and delivery systems. With highly sophisticated manufacturing technology, outstanding personnel, and an exceptional level of customer service, we are consistently able to meet the rigorous demands of the global orthopedic marketplace. Our expertise is yours.
Since our earliest days, global orthopedic OEMs have called on us to tackle the complex demands of their multilevel assemblies and implants. For more than four decades, we have produced a wide array of products, each one an expression of our commitment to quality and craftsmanship. By seamlessly integrating traditional LEAN manufacturing practices with our own unique brand of DFM (design for manufacturability), we ensure all quality standards and manufacturing goals are addressed.
Ours is a challenging and rewarding business, and we fully appreciate how much the work we do affects people's lives. It is an honor to be trusted by so many companies to do such important work.
PPM manufactures from the highest grade materials, including: